Latest Version: 2021.0
Introduction
The LMD Dialog Pack consists of a number of components that not only emulate the Windows Vista TaskDialog and TaskDialogIndirect API functions on other operating systems but also provides enhancements over those APIs (e.g. custom header settings, extended text formatting, integration of checkboxes etc)…
There are components for enhancing the dialogs with edit controls and also replacing the Radio Button functionality with Check Boxes. Also included are three Password specific dialogs, that allow you to capture password information by dropping a component on your form and writing a line or two of validation code.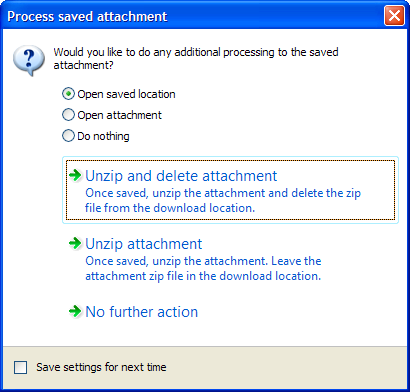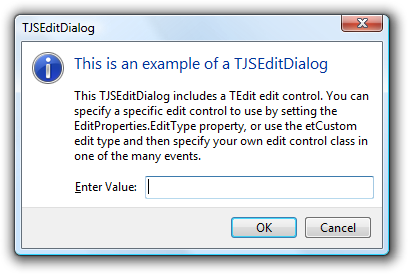 LMD DialogPack allows you to create applications that look and act like they are using the native Vista and Windows 7 API (and better). With LMD DialogPack you can:
Create and configure new dialogs easily.
Create complex dialogs that accept and require several inputs. If default options are not sufficient, you can use frames to insert any controls into your dialog.
Take advantage of visual Component Editors and IDE Expert for dialog creations.
Ready to use editor templates for fast code creation.
Modify only your uses clause of existing applications to use the new dialog look and feel.
Control the appearance of all your applications Dialogs in one place.
Centralized resourcestrings for easy translation into the language you require.
Screenshots
TJSDialogSheet example
Example for TJSDialogSheet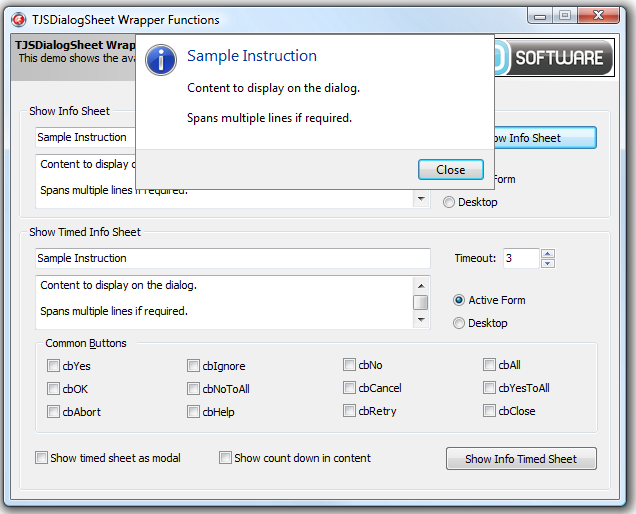 TJSDialog - Verification option
TJSDialog with verification option enabled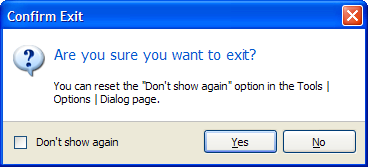 TJSDialog - old MessageBox style
This is a TJSDialog displaying as an old style MessageDlg

TJSDialog - emulated MessageBox style
Same TJSDialog as before with old style MessageDlg emulation enabled

TJSDialog with Header (header settings are not a feature of the new Vista style Task Dialogs) and Footer options enabled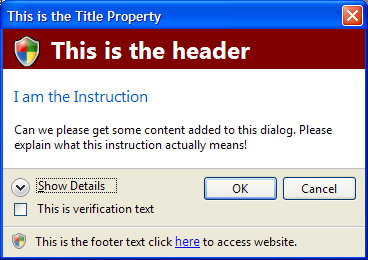 TJSDialog - expanded state
TJSDialog like before with Header and Footer options enabled and Expand button expanded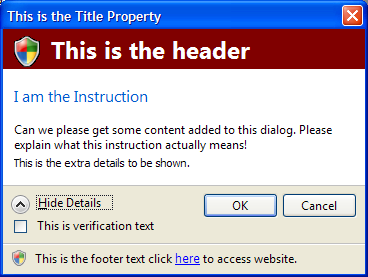 TJSDialog - Radiobuttons
TJSDialog with Radio Buttons used. Selecting a Radio Button displays a different Icon.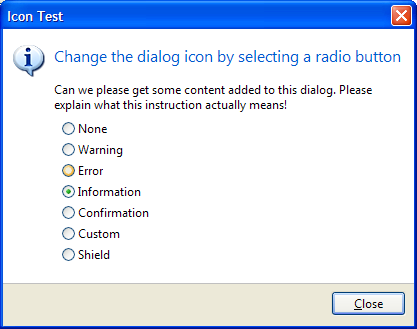 TJSDialog - CheckBoxes
Screenshot displays a dialog with checkboxes (no default behaviour of the system Taskdialog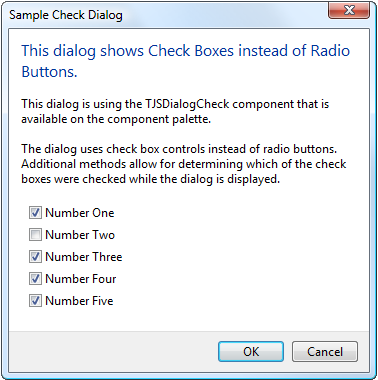 TJSDialog - several features enabled
An expanded TJSDialog with Main instruction, Content, Extra Lines, Help Link, Expando, Verification and Footer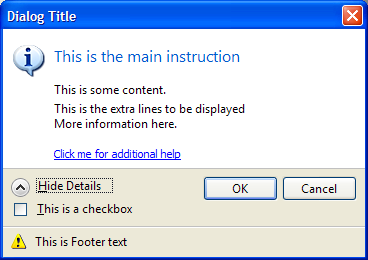 TJSDialog - borderless dialog
This page demonstrates A borderless TJSDialog with a marquee style progress bar

TJSDialog - Custom fonts
Screenshot demonstrates how simple it is to customize fonts in the dialog.

TJSDialog - Max Lines for text display
Screenshot demonstrates MaxLines features (limitation of memo to certain number of lines before scrollbars appear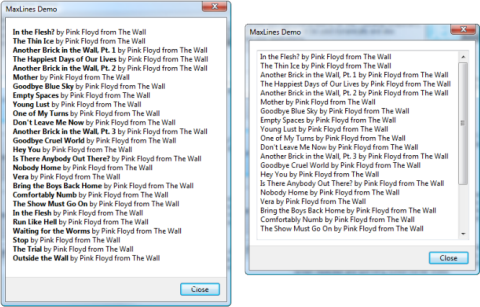 TJSDialog - Custom Icons
Screenshot demonstrates usage of custom icons.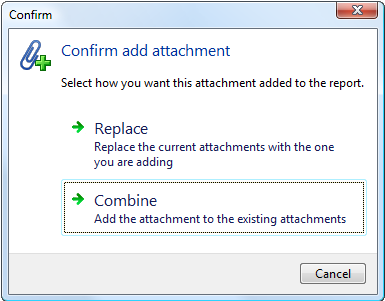 TJSEditDialog - standard input box
TJSEditDialog with a edit box displayed to capture input. Running under Vista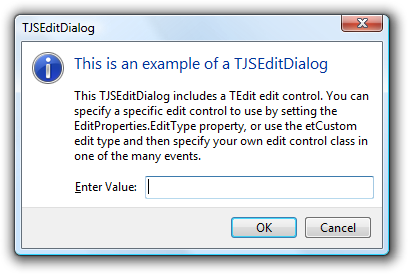 TJSEditDialog - InputCalendar
Example output under Vista of the InputCalendar wrapper function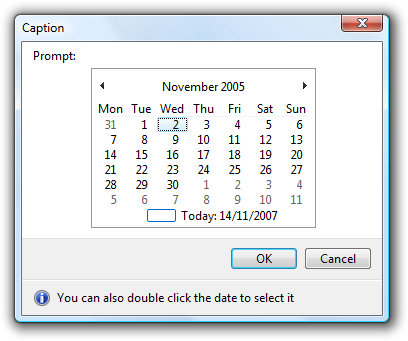 TJSEditDialog - InputComboBoxEx
Example output under Vista of the InputComboEx wrapper function

TJSEditDialog - extended Password dialog
Shot demonstrates built-in password dialog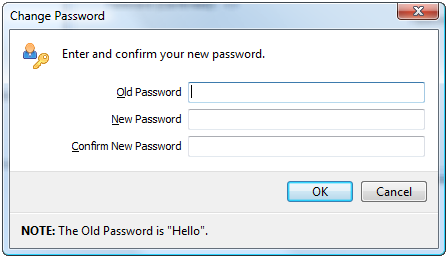 Documentation
Downloads
Description
Date
Available Files
LMD DialogPack Trial

Standalone version. Demo projects included. Documentation available online.

Main Demo describes the compiled maindemo (which is one of more than 20 demo Projects).

LMD DialogCreator is a standalone application to help creating source and DFM code visually.

This is a LMD 2021 release and should not be used at the same time with older release packages.

All releases contain 32bit + 64bit support, latest ServicePack required!

Installation problems? Read the corresponding Package Installation Wiki entry.

April 7, 2021
LMD HelpFiles for Standalone Packs

Helpfiles for LMD Standalone Packs like BarPack, ChartPack, FxPack etc.

April 7, 2021